Wouldn't you think Asian dumplings would be hard to make at home? If you've been a regular reader of my blog, you know I am all about efficiency and EASY when it comes to cooking. I love a good meal, but I just don't have the time to slave away in the kitchen for hours. This Korean Dumpling recipe will blow you away with how delicious and fresh it tastes despite the easy process to make!
The hardest part about this recipe is finding the dumpling wraps and Asian chives which may not be sold at your regular grocer. They are very easy to find at Korean or Asian grocery stores, so if you can visit one near you, you're set to make these scrumptious homemade Korean dumplings. Skip to the recipe card below, or read on for more tips.
I noticed some Targets sell the dumpling wrappers, so they may be easier to find than I thought. They will look like the picture above, and likely be in the frozen section.
"Buchu" or Asian chives (sometimes called garlic chives) look like this. Larger than chives, much thinner than scallions. They look like long strands of grass.
Once you have all your ingredients, it takes about 15 minutes to prepare the filling. Most of the prep time is for chopping the onions, garlic, and Asian chives. You simply add all the ingredients together and hand mix before you start shaping the dumplings.
Putting the dumplings together is the part that takes some time, but what a fun activity for the kids to help with! Without their help, it will take another 15-20 minutes to shape the dumplings to get ready to cook or freeze.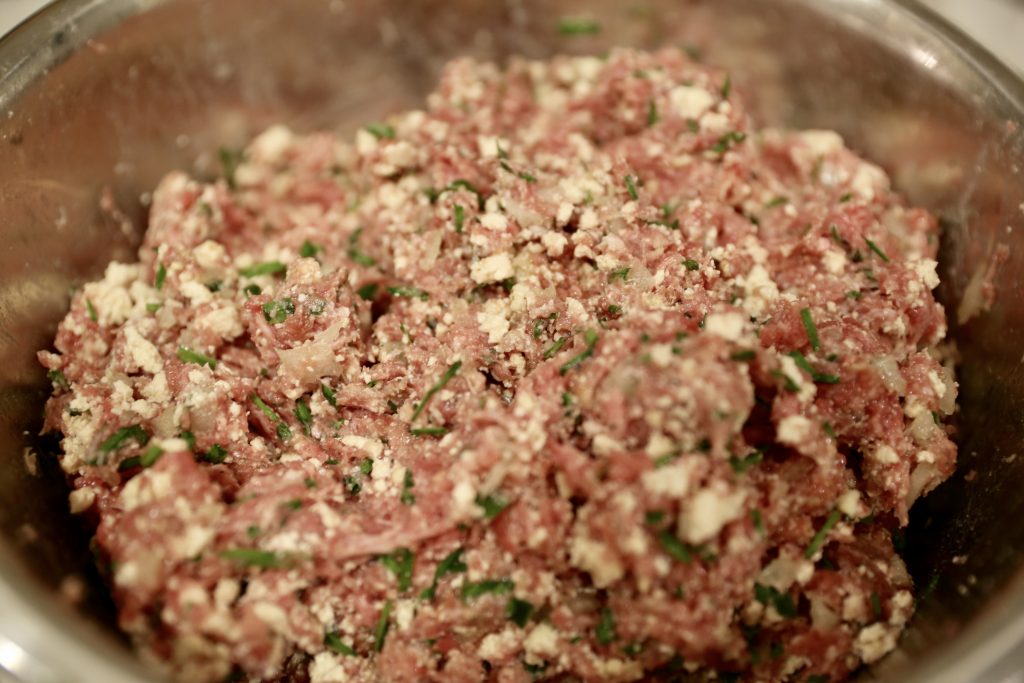 I'd love to touch base with you with new posts and give you access to my new freebie resource library where I'm adding new goodies to each day.
Yield: 8
Delicious and Easy Homemade Korean Dumplings
If you love steamed dumplings, this easy recipe is for you! Enjoy at home but feel like you're at a Korean restaurant! Yuuuuuum.
Ingredients
1 lbs of ground pork
2 lbs of ground beef
2 cups of chopped buchu (Asian chives)
1/2 half onion
7 oz (1/2 package) soft tofu
3 cloves of minced garlic
1 tsp salt
1/2 tsp pepper
3 tbs sesame oil
1 tsp Soy sauce
1 tsp sugar
dumpling skins (60 round discs)
Instructions
Make filling:
Chop washed and dried chives into 2 cups worth
Finely Chop onion and mince garlic
Place 1 cup of ground pork and 2 cups of ground beef into a big bowl.
Add chopped chives, garlic and onion to meat
Squeeze a half package of tofu with a paper towel (mush it up with your hands) and add to meat mixture
Add 1 tsp of salt, 1tsp soy sauce, 2 tbs of sesame oil, 1tsp of sugar ½ tsp of ground pepper and mix it by hand.
Shape dumplings:
Put some of the filling mixture into the center of a dumpling skin.
Use your fingertips to apply a little cold water to one edge of the skin. This will act as a sealant when you fold it over.
Fold skin in half over filling and press edges together to make ripple shape.
Steam dumplings:
Boil 2 cups of water with steamer insert in pot. Place dumplings in steamer for 8-10 minutes.
Optional: Dipping sauce made of equal parts vinegar and soy sauce.
Notes
You can also fry these dumplings with vegetable oil. Make sure pan is hot before placing dumplings in the pan. On medium heat, cook about 4 minutes on each side.
I make a double batch and freeze half of the filling in a ziploc for another night's dinner. When I'm ready, I will defrost and fill the dumplings. Just as delicious.
This recipe has 8 servings or about 7 dumplings but if you're like my family, it will feed 4. Dumplings don't have too much filling in each and therefore you're going to want to eat many.
Nutrition Information:
Yield:
8
Serving Size:
1/8
Amount Per Serving:
Calories:

562
Total Fat:

38g
Saturated Fat:

13g
Trans Fat:

1g
Unsaturated Fat:

21g
Cholesterol:

154mg
Sodium:

509mg
Carbohydrates:

4g
Fiber:

1g
Sugar:

1g
Protein:

48g
Yuuum, my mouth waters just writing this post! Enjoy!
Flavor your life with an Ounce of Salt. A lifestyle blog by Jen Oliak.