Do you know how to clean gold jewelry at home? It's super easy!
Most people think of polishing silver, not gold. But gold can get dull too. Over time, gold loses its shine due to products we wear like lotion and perfume as well as oils and sweat from our skin. Like silver, it's possible for gold to tarnish.
I used to never think about cleaning my gold pieces because I thought the dullness overtime was just the look of the jewelry. But it isn't! Your gold should shine like it did when you first received it.
Your gold jewelry can sparkle like new again with a simple gold cleaning solution you can make at home. Simply mix salt, baking soda, and hot water together and soak your gold jewelry for 10 minutes. Can you believe it's that easy? Yup, it is!
The following card (scroll below) outlines the step by step guidelines on how to clean gold jewelry at home. Note – this is for 14-18k gold, not gold filled or gold plated!
Before I go into the details of cleaning gold, I want to share with you – I came up with a stylish solution to keep my mask close with easy access while keeping it clean! It is a cool, paperclip, link chain that is long enough to pull on over your head and wear as a lanyard/necklace. Unlock your 40% off coupon for a limited time!
How to clean gold jewelry
Tarnished 14K gold earring I have had for 25 years.
Aluminum foil, baking soda, salt, clean cloth, and hot water are the supplies you need.
Finished product! Like new after sitting in gold cleaning solution for 10 minutes and wiped off with cloth.
How to clean gold jewelry
The salt, baking soda and aluminum foil together create ion transfers (a chemical exchange) that naturally help clean the metal.
Additional Time
5 minutes
Materials
1 tablespoon of salt (clears away dirt and debris)
1 tablespoon of baking soda (helps clean the metal)
1 cup hot water
1 dry cloth
Instructions
Cover a small bowl with aluminum foil.
Add salt.
Add baking soda.
Heat water in the microwave for 2 minutes.
Add the water to the aluminum foil covered bowl with salt and baking soda.
Soak jewelry for 10 minutes.
Remove and rub excess debris/tarnish with a soft cloth.
Rinse in warm water.
Dry with soft cloth.
Notes
Don't forget to heat your water first!
Don't soak it for longer than 10 minutes, especially if you have any stones in the gold. Depending on the make and how the stones are attached, the solution may loosen them as it is cleaning the jewelry.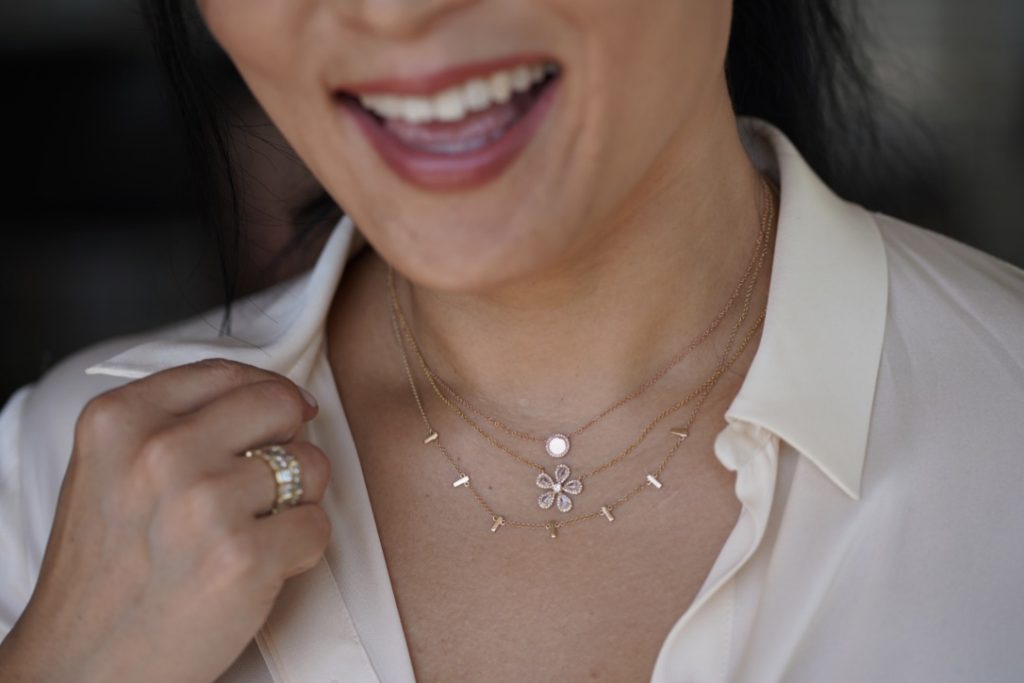 Visit my jewelry shop collection!
And if you found this post useful, see my post How to Clean Diamonds Quickly and Easily and How to Buy Gold: 5 Must Knows
"Flavor your life with an Ounce of Salt." A lifestyle blog by Jen Oliak.